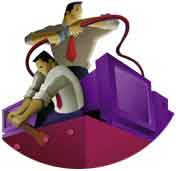 Network Monitoring Tools:
Kiwi Syslog Daemon is a
freeware
Syslog Daemon for Windows. It receives, filters, logs, displays and forwards Syslog messages and SNMP traps from hosts such as routers, switches, Unix hosts and any other syslog enabled device.
Distributed Inetnet Traffic Generator (D-ITG)
Nmap is a free open source utlity for network exploration or security auditing. Nmap usues raw IP packets in novel ways to determine what hosts are available on the network, what services they are offering, what operating systems they are running, what type of packet filters/firewalls are in use and other characteristics.
Monitors all business-critical processes in a server-based computing infrastructures. Offers free EControl Portal Pilot License that monitors 10 services.